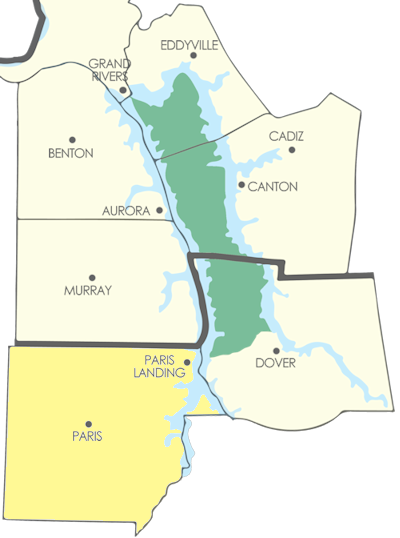 Paris Landing and the seat of Henry County, Paris, is located southwest of Land Between The Lakes. Paris Landing is the nearest community to the popular Piney Campground in LBL.
The city of Paris has a few motels and hotels to book your stay. Several resorts and campgrounds can be found in the Paris Landing, Springville and Buchanan area in the eastern part of the county, along the shores of Kentucky Lake.
A good selection of eateries can be found in Paris and also in Paris Landing near US 79.
Lots of marinas offer boat rentals up and down Kentucky Lake in eastern Henry County.
Paris is home to the World's Biggest Fish Fry, a week-long festival with tons of catfish, carnival rides, events and much more. It's one of the largest festivals in this region. Paris is also home to a replica of the Eiffel Tower (how fitting!). Featuring 500 piece of Douglas fir and 6,000 steel rods, the monument was built in 1993 and stands 60 feet tall.
See the complete listing of Paris area attractions.
Community Profile
Get an in-depth look at Paris/ Paris Landing on Explore Kentucky Lake.