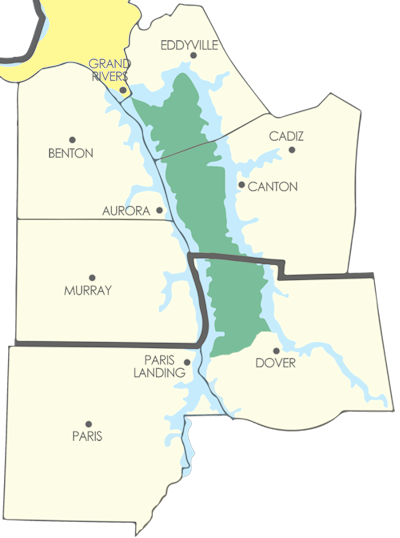 Grand Rivers, Kentucky, situated between Kentucky Dam and Barkley Dam (and subsequently Kentucky Lake and Lake Barkley) is the "Gateway to Land Between The Lakes."
Beautiful waterfront resorts including Green Turtle Bay are located in Grand Rivers. You'll also find motels, campgrounds, and vacation rentals in the community. See all the accommodations in Grand Rivers.
Home to Patti's 1880's Settlement, Grand Rivers has great dining options for those planning a trip to LBL.
Undoubtedly, the town's top attraction is Patti's 1880's Settlement. The settlement features a nationally-recognized restaurant (which at the time of this writing, suffered a major fire and is currently rebuilding), fabulous gift shops, a miniature golf course, and more. The Badgett Playhouse is also located in Grand Rivers with shows on a weekly basis.
See the complete listing of Grand Rivers area attractions.
Community Profile
Get an in-depth look at Grand Rivers on Explore Kentucky Lake.