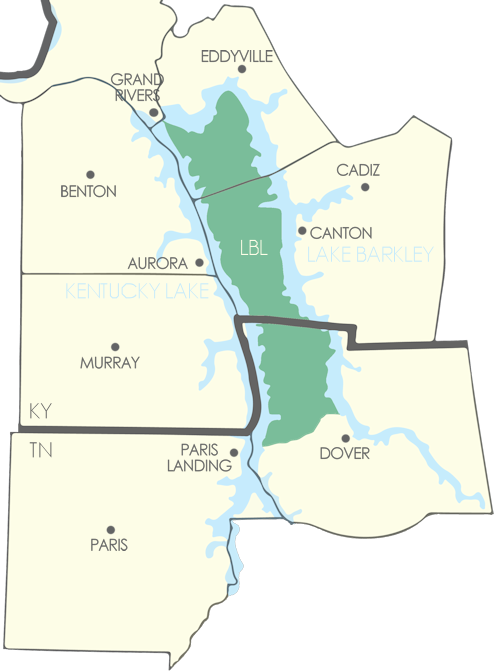 Land Between The Lakes is surrounded by small towns and cities with lodging, restaurants, attractions and shopping.
Grand Rivers
Known as the "Gateway to Land Between The Lakes", this vibrant community is located on LBL's northern border, just across from the Lake Barkley canal. There you'll find several shops, a handful of eateries, groceries, fuel, camping supplies and more. The town is home to the famous Patti's 1880's Settlement. Grand Rivers is closest for those in northern Land Between The Lakes, such as Hillman Ferry Campground.
Benton/Aurora
Aurora is located just to the west of Land Between The Lakes on US 68, near the new Eggners Ferry Bridge across Kentucky Lake. In Aurora, you'll find a few shops, supplies, fuel and a couple of restaurants. Several lodging opportunities are in Aurora. The small community is home to Kenlake State Park. Aurora is the closest community for OHV riders at Turkey Bay in LBL. The larger town of Benton is located about 25 minutes from Land Between The Lakes and features just about everything you'd expect to see in a small Kentucky city.
Murray
This city of 19,000 residents is the largest community near Land Between The Lakes. Located about 20 minutes from the Golden Pond Visitor's Center, Murray is home to Murray State University, over 60 restaurants, dozens of shops and boutiques, several hotels and motels, resorts, and attractions. The city is easily accessible from the four-lane highway Kentucky 80 that runs through LBL.
Cadiz/Canton
Located to the east of Land Between The Lakes, Cadiz and Canton are both situated on US 68/KY 80 and offers easy access to the center of Land Between The Lakes. Canton features a couple of stores for fuel and supplies and is situated right on Lake Barkley. Cadiz, just 10 miles down the road from Lake Barkley, is a charming town of 2,500 residents featuring a beautiful downtown area, numerous restaurants and many places to stay.
Eddyville/Kuttawa
Home of Venture River Waterpark and a few motels, restaurants and campgrounds, Eddyville is located about 40 minutes from the center of Land Between The Lakes and only about 15 miles from the northern entrance of LBL. Kuttawa, located on the northern shores of Lake Barkley near Eddyville, is a quaint little town with a couple of marinas, restaurants and beautiful scenic views of the water.
Dover
Dover, Tennessee serves as the southern gateway to Land Between The Lakes. Located on US 79, Dover is most known as the home of Fort Donelson, a well-preserved Civil War site. A few restaurants and lodging opportunities are located in this small southern town of 1,500 residents. It's the closest town for those exploring southern LBL, including The Homeplace 1850s.
Paris/Paris Landing
You'll find Paris Landing near the southwest corner of Land Between The Lakes. Visitors to LBL's Piney Campground are closer to Paris Landing. The community is home to a few restaurants, several accommodations and marinas, as well as Paris Landing State Park. Heading southwest from Paris Landing on US 79 is Paris, Tennessee, the second-largest community near Land Between The Lakes and is home to dozens of restaurants, shopping, and other businesses.