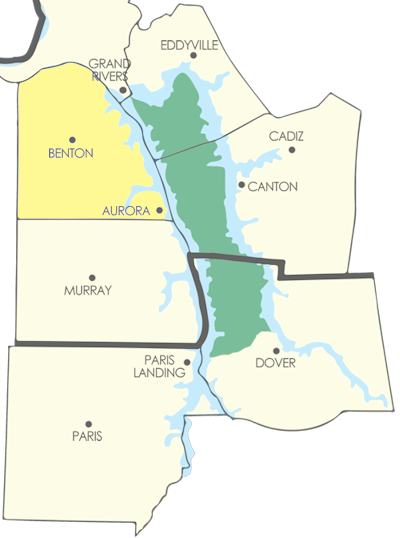 Located in Marshall County, Kentucky and includes the communities of Draffenville, Calvert City, Gilbertsville and Hardin.
Marshall County is home to this area's largest selection of accommodations. From waterfront resorts, campgrounds, hotels and more, you'll find a great place to stay in Benton, Aurora and other communities in Marshall County.
View restaurants in Benton, Aurora and throughout Marshall County.
Find marinas and boat rentals in Benton, Aurora and throughout Marshall County.
Kentucky Dam is located in northeastern Marshall County. Seasonal tours are available and access to areas below the dam offer scenic views and fishing. Benton has a few attractions that the kids will eat up! Kentucky Shores near Draffenville, about 15 minutes from Benton, has mini-golf, go-carts, ziplines and more.
Maggie's Jungle Golf on 641 near Kentucky Dam is another popular destination offering miniature golf as well as a Jungle Run. The Kentucky Opry, also in Draffenville, has country-style, family-friendly live music shows throughout the year.
Each spring, usually the first weekend of April, Benton celebrates Tater Day. This three-day festival features a parade, carnival rides, lots of interesting food vendors, a flea market, and more.
See the complete listing of Benton area attractions.
Community Profile
Get an in-depth look at Benton, Aurora and Marshall County on Explore Kentucky Lake.