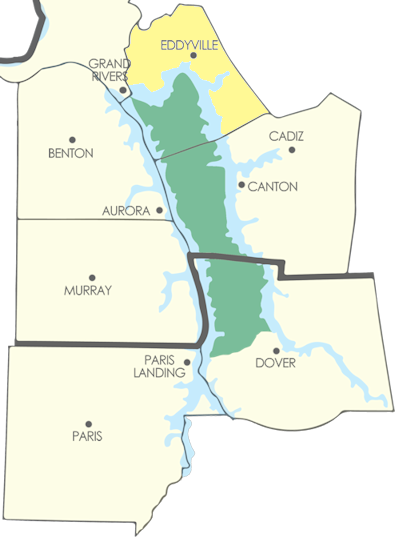 Eddyville and Kuttawa, Kentucky are located in Lyon County and situation along the shores of Lake Barkley. Land Between The Lakes is best accessed from Eddyville/Kuttawa through Grand Rivers.
In Eddyville, Kuttawa and throughout Lyon County, resorts, motels and several rentals by owner are available.
A couple dozen restaurants are in Eddyville and Kuttawa, especially along the US 62/US 641 corridor and near the Interstate 24 interchange at Kuttawa.
There are several marinas offering boat rentals in Eddyville, Kuttawa and Lyon County.
Venture River Waterpark provides families and kids hours of countless fun. It's the largest waterpark in this region. Mineral Mound State Park is located near Eddyville, featuring an 18-hole golf course, his park overlooks Lake Barkley.
See the complete listing of Eddyville and Kuttawa area attractions.
Community Profile
Get an in-depth look at Eddyville/Kuttawa on Explore Kentucky Lake.